Intimate and neighborly, the Downtown Covina area brings you all of the comforts of a small town with the convenience of a big city.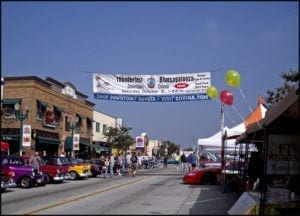 Our motto is "A Mile Square and All There" because the three-block section of historic Citrus Avenue bound by Badillo Avenue and San Bernardino Road, is home to a remarkable variety of shops, restaurants, entertainment, and community organizations.
Our Downtown Covina retailers offer furniture, country-inspired home decorations, vintage clothing, skateboards, musical equipment, books, and more! The downtown can also offer a full array of services from printing, camera equipment, web design, office services, shoe repair, pharmacy needs, optical services, concert and sports tickets, salons and stylists, a nail spa...the list goes on! And when you're done shopping, visit one of our restaurants or cafes! Whether you're in the mood for authentic Mexican food, meatballs, sandwiches, burgers, gourmet salads, seafood, a stiff drink, or just a nice cup of artisan coffee, we've got it all.
Our close-knit community is full of owners that are specialists in their trade. When you shop with the businesses of Downtown Covina, you're working with people who understand the meaning of service and the importance of a quality reputation. You'll also be supporting real people and real families who live in the area and work in Downtown Covina.
Established on a 2,000 acre tract that was purchased in 1882 by j.s. phillips, the City of covina was given its name by a young engineer named Frederick Eaton.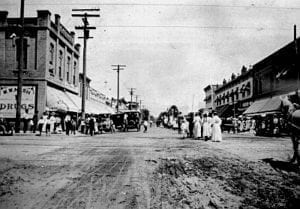 Struck by the manner in which the valleys of the adjacent San Gabriel mountains seemed to form a natural cove around the lush vineyards that had been planted by the region's earliest settlers, Eaton combined the words cove and vine, and coined the name Covina for the new township.
Covina was once at the center of the Southern California Citrus Belt, and for more then 50 years the cultivation of oranges and lemons was the city's economic mainstay. Citrus Avenue derives it's name from the large groves of oranges that once covered the area.
To find out more about the city of Covina and its place in the San Gabriel Valley, visit the Covina Museum in the old jail house adjacent to City Hall.
The CDMA is a non-profit organization dedicated to the promotion of the historical shopping district in downtown covina
The Covina Downtown Merchants Association (CDMA) is made up of local business owners and long-time Covina residents who are dedicated to the promotion and preservation of the Downtown Covina area. We offer certain benefits to business owners in Covina, as well as hosting our yearly events like the St. Paddy's Day Rooftop Festival, the Covina Charities Wine Walk, and the Thunderfest Car Show & Music Festival.
Thinking about moving your business to Covina and interested in becoming a member? Contact us for more information and a board member will get back to you within 1 business day.